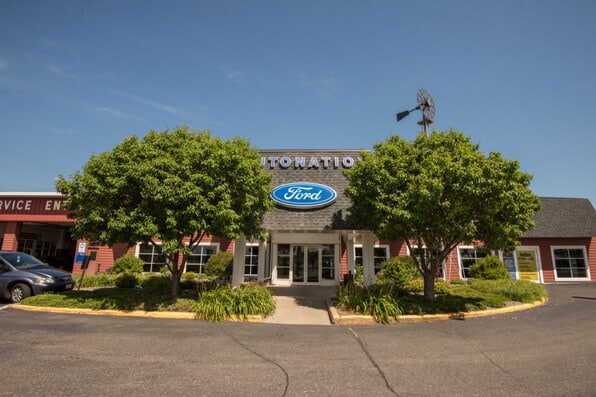 Are you're interested in buying a new Ford vehicle near Forest Lake? Our friendly sale team at AutoNation Ford White Bear Lake is ready to show you why AutoNation Ford White Bear Lake should be your Forest Lake Ford Dealer. Our fully stocked auto dealership offers a range of the most popular ford Ford vehicles including the Ford F-150, F-250, F-350, Escape, Explorer, Edge, Fusion, Mustang coupe, or Mustang convertible. Whether you need a Ford Expedition or Ford Explorer for school drop off at Forest Lake Elementary or Southwest Junior High, need an economical commuter car such as the Ford Fiesta, or just want a fun car like the Ford Mustang to zip around the city in, you'll find it at our Ford dealership near Forest Lake. 
Ford Dealership Near Forest Lake, MN
We're proud of the large selection of Ford's newest models on our Forest Lake Ford lot. From Ford F-150s to Ford Fusions, Ford Explorers, Ford Expeditions, and more, we have it!  With such a large variety of inventory on our lot, we also carry a wide range of colors, trim packages, and options on-hand, so you'll be able to find the new Ford that you've been dreaming of. However, if you don't see the new Ford car, truck, or SUV you've been searching for on our lot, we will be more than happy to help you special order the new custom Ford vehicle you've been after. Call or stop by our Forest Lake Ford dealership to learn more about and see our new Ford vehicle selection.
Ford Dealership Near Forest Lake, MN
If you're in the market for a used car or certified pre-owned Ford vehicle, we will be happy to help you find one. We have a great selection of pre-owned vehicles to choose from including used trucks, cars, and SUVs from Ford. However, if you're not looking for a used Ford vehicle, we also carry a large selection of used and certified pre-owned vehicles of other makes such as Chevy, Toyota, Honda, Dodge, VW, and more. For your peace of mind, each of our used vehicles come equipped with a CarFax report. What's more, our certified pre-owned vehicles are all backed with a limited warranty. To see our used vehicle inventory, check out our online selection or stop by AutoNation Ford White Bear Lake near Forest Lake.
Ford Dealership Near Forest Lake, MN
Our Forest Lake area Ford finance center offers the best deals on vehicle financing and new car loans. Whether you're buying a new or used vehicle, if you have good or bad credit, we'll make sure you help you get the very best loan or financing deal you need to qualify for the purchase of a new vehicle. Our Associates offer No-Hassle Financing on a wide range of finance and lease programs, which means you don't have to worry about bargaining or deal-making. You'll be offered our best price on the spot. If you're unsure of how much financing you'll qualify for, we suggest that you look at the loan calculator on our web site to help you get an idea of how much a new car will cost you each month. To learn more about Ford financing, call or stop into our AutoNation Ford White Bear Lake dealership.
Ford Dealership Near Forest Lake, MN
At AutoNation Ford White Bear Lake, we don't stop after the sale is complete. We have an excellent service department with Ford-trained technicians ready to provide exceptional service in an efficient manner. We service both new and used Fords at our Ford service center near Forest Lake. Whether you need a simple oil change or brake repair or the more complex motor or engine repair, we are your one-stop service department that can handle it all. Our service department is staffed with highly trained and skilled Tech Xperts, and we only have real Ford parts in stock to ensure the highest quality service. Allow our highly-trained Ford technicians to demonstrate our commitment to keeping your Ford running for the life of your vehicle.
Ford Dealership Near Forest Lake, MN
In addition to our service and collision departments, we also have an impressive Ford parts department that offers a variety of replacement OEM parts for sale near Forest Lake. The parts we sell at our Ford dealership are OEM parts. Our parts come directly from the Ford factory. This ensures that the Ford parts that we sell are the same high-quality parts that are in your current Ford vehicle. The technicians at our Ford service and collision centers near Forest Lake can answer any questions you may have with regards to installation and maintenance.
Ford Dealership Near Forest Lake, MN
We know accidents happen, and that's why our Ford dealership's body shop helps to take care of all of your collision and auto body repairs. Our certified TechXperts can help you fix dings, dents, scratches, fender-benders, and more. Our collision center only uses genuine Ford OEM parts, so you can be sure that you're getting the same high-quality Ford parts that originally came with your vehicle.
If you're looking to purchase a new or used vehicle, need to service your Ford vehicle, or need auto body work done, we are ready to help serve you today! Call or stop by AutoNation Ford White Bear Lake to see our vehicle selection and learn more about our inventory and services.